Exclusive: Japan is in talks to open a NATO office in Tokyo, foreign minister says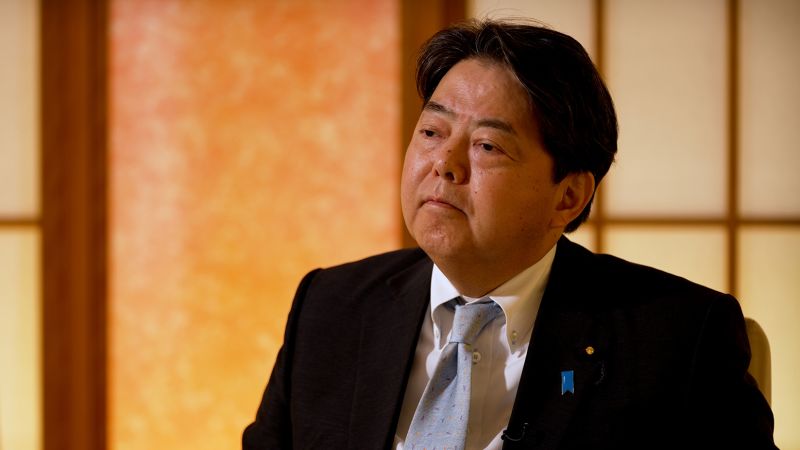 Tokyo
CNN
 — 

Japan is in talks to open a NATO liaison office, the first of its kind in Asia, the country's foreign minister told CNN in an exclusive interview on Wednesday, saying Russia's invasion of Ukraine has made the world less stable.
"We are already in discussions, but no details (have been) finalized yet," Foreign Minister Yoshimasa Hayashi said on Wednesday.
Hayashi specifically cited Russia's invasion of Ukraine last year as an event with repercussions far beyond Europe's borders that forced Japan to rethink regional security.
"The reason why we are discussing about this is that since the aggression by Russia to Ukraine, the world (has) become more unstable," he said.
"Something happening in East Europe is not only confined to the issue in East Europe, and that affects directly the situation here in the Pacific. That's why a cooperation between us in East Asia and NATO (is) becoming … increasingly important."
He added that Japan is not a treaty member of NATO, which stands for the North Atlantic Treaty Organization – but that the move sends a message the bloc's Asia Pacific partners are "engaging in a very steady manner" with NATO.
The opening of a NATO liaison office in Japan would mark a significant development for the Western alliance amid deepening geopolitical fault lines, and is likely to attract criticism from the Chinese government, which has previously warned against such a move.
The Nikkei Asia first reported plans to open the office in Japan last Wednesday, citing unnamed Japanese and NATO officials.
NATO has similar liaison offices in other places including Ukraine and Vienna. The liaison office in Japan will enable discussions with NATO's security partners, such as South Korea, Australia and New Zealand, on geopolitical challenges, emerging and disruptive technologies, and cyber threats, Nikkei reported last week.
In a statement to CNN last week, a NATO spokesperson said: "As to plans to open a liaison office in Japan, we won't go into the details of ongoing deliberations among NATO allies." She added that NATO and Japan "have a long-standing cooperation."
CNN reached out to NATO for comment on Wednesday after Hayashi's remarks.
Russia's invasion of Ukraine sent shockwaves through Europe and drove non-aligned Finland and Sweden to abandon their neutrality and seek protection within NATO, with Finland formally joining the bloc last month.
The war has also seen countries like Japan and South Korea draw closer to their Western partners, while presenting a united front against perceived threats closer to home.
Speaking to CNN on Wednesday, Hayashi highlighted what he described as Japan's "severe and complex" regional security environment, noting that in addition to increased Russian aggression, Tokyo is also contending with a nuclear-armed North Korea and a rising China.
China has been growing its naval and air forces in areas near Japan while claiming the Senkaku Islands, an uninhabited Japanese-controlled chain in the East China Sea, as its sovereign territory. In the face of growing friction, Japan recently announced plans for its biggest military buildup since World War II.
Tensions between Japan and Russia have also been increasing in recent months, fueled in part by Russian military drills in the waters between the two nations, and joint Chinese-Russian naval patrols in the western Pacific close to Japan.
In April, Russian warships conducted anti-submarine exercises in the Sea of Japan, also known as the East Sea – and in March, Russian missile boats fired cruise missiles at a mock target in the same waters. And after Japanese Prime Minister Fumio Kishida made a surprise visit to Ukraine in March, two Russian strategic bombers, capable of carrying nuclear weapons, flew over waters off the Japanese coast for more than seven hours, Reuters reported.
Despite the growing regional tensions, Hayashi said the potential opening of the office was not aimed at specific countries. "This is not intended…to be sending a message," said Hayashi.
China has previously warned against NATO expanding its reach into Asia and responded angrily to previous reports on the possible Japan office.
"Asia is a promising land for cooperation and a hotbed for peaceful development. It should not be a platform for those who seek geopolitical fights," said Chinese Foreign Ministry spokesperson Mao Ning in a briefing last week. "NATO's eastward push and interference in Asia Pacific matters will definitely undermine regional peace and stability."
Though Beijing has claimed impartiality in the Ukraine war and no advance knowledge of Russia's intent, it has refused to condemn Moscow's actions. Instead, it has parroted Kremlin lines blaming NATO for provoking the conflict – further fracturing relationships with both Europe and the US.
And in March, senior Chinese Foreign Ministry officials and influential Communist Party publications accused the United States of seeking to build a NATO-like bloc in the Indo-Pacific, with one official warning of "unimaginable" consequences.
On Wednesday, Hayashi played down concerns that opening a Tokyo NATO office could further inflame tensions, saying: "I don't feel that's the case."
The country has had a pacifist constitution since World War II – which he argued is reflected in this move.
"We are not offending anyone, we're defending ourselves from any kind of interference and concerns, and in some cases threats," he said.